The new Fortnite Season 9 week 2 challenges are out and ready to be conquered! Here is a list of the week 2 challenges and how to complete them. There are 7 challenges total, 3 free and 4 exclusive to battlepass owners.
Here are the 3 free:
1. Launch off 5 air vents in different matches — 5 battlestars
2. Stages 1/5: Land at Snobby Shores — 1 battlestar
— Stages 2/5: Land at Fatal Fields — 1 battlestar
— Stages 3/5: Land at Sunny Steps — 1 battlestar
— Stages 4/5: Land at Dusty Divot — 1 battlestar
— Stages 5/5 Land at Happy Hamlet — 1 battlestar
3. Eliminate 3 opponents in Sunny Steps or Shifty Shafts — 10 battlestars
Here are the 4 exclusive challenges:
4. Deal 500 damage with pistols to opponents — 5 battlestars
5. Visit an oversized Phone, a big Piano, and a giant Dancing Fish Trophy — 5 battlestars
6. Search a chest in three different locations in a single match — 10 battlestars
7. Eliminate an opponent from at least : Stage 1/3 – 50m away — 3 battlestars
— Stage 2/3 – 75m away — 3 battlestars
— Stage 3/3 – 100m away — 4 battlestars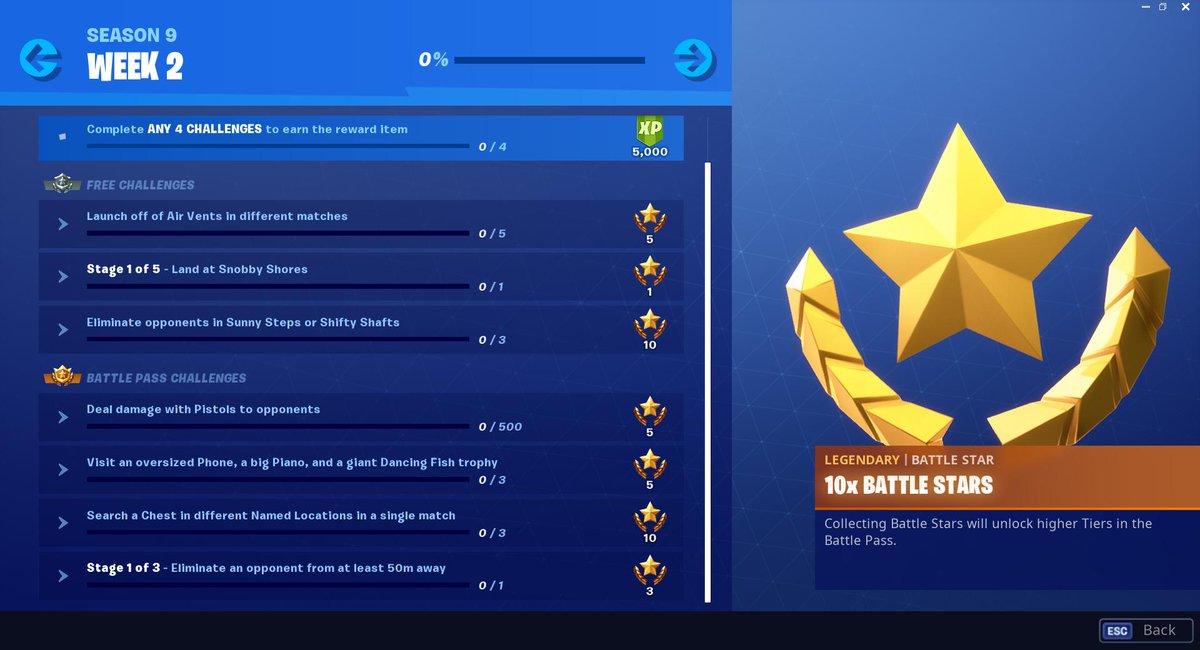 Guide
Challenge 1. For this challenge it's pretty straight forward, however the locations are not told. The main locations for the vents are Loot Lake, Neo Tilted, and Mega Mall.
Challenge 2. Just look on your map for the name and land there. Don't play a respawn mode because you can only get one stage per match.
Challenge 3. Do not do a big team gamemode for this just do normal like solo, duo, or squads. Also if you are an aggressive player go for the one closest to the battle bus because more people will likely go there.
Challenge 4. Respawn modes are great for these types of challenges. Whatever one is available at the time you are doing the challenge just grab a pistol when you see one go to the circle and get some damage!
Challenge 5. The location of the oversized Phone is west of Fatal Fields on the small mountain on the edge of the snowy area. The big Piano is south of Lonely Lodge and north of the broken down superhero mansion. The giant Fish Trophy is stuck in one of the two houses south west of Mega Mall.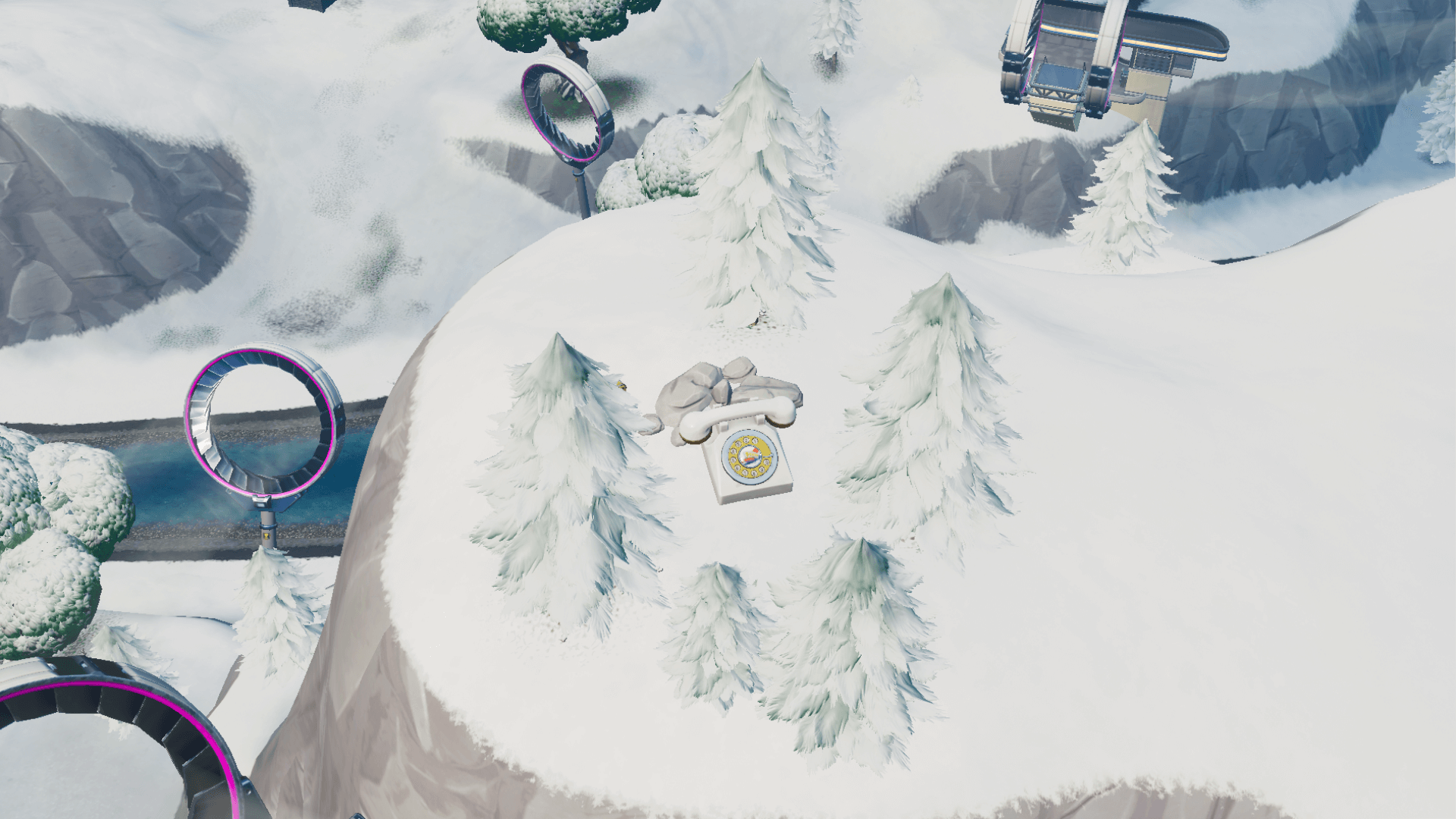 Challenge 6. Another challenge that is so easy in a respawn mode, land at a location and grab a chest, then eliminate yourself to respawn and go to a new place with little or no people, grab a chest and repeat once more to complete the challenge. Another quick tip is that the three closest locations are Pleasant Park, Haunted Hills, and Junk Junktion for even quicker completion.
Challenge 7. This you should also do in a big team respawn mode. When you are in the game try to find a sniper or even an assault rifle, anything with a long range. After you find a good weapon go to something tall like a mountain or building (in the circle) with a large view of the circle and the opponents and get an elimination from far away.